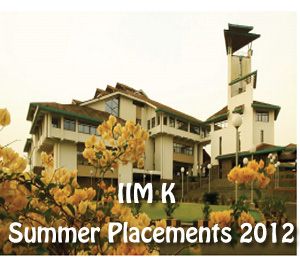 Indian Instiitute of Management, Kozhikode announces the sucessful completion of the Summer Placements Process for the fifteenth batch of the flagship PGP program comprising 343 students. IIM Kozhikode continued to maintain it's 100% placement record with over 100 firms making internship offers spanning across all verticals. The summer process saw the participation of over 35 firms that took part for the first time in addition to the loyal recruiters who have always believed in the talent pool at IIM Kozhikode. Many of the firms made a record number of offers, the highest over several years, reaffirming the status of the college as a premier institution of global repute.
The first-time recruiters were impressed by the academic excellence & rigor of the curriculum and the diverse talent pool available at IIM Kozhikode. One of India's most admired and trusted company that participated for the first time, was amazed by the quality of students and went ahead to make the largest number of offers in their history of recruiting across all campuses. Several first time recruiters from across verticals like TAS, CLSA, Societe Generale, Amazon, Avalon Consulting, Macquarie Capital, Yahoo, Dabur, RPG Group, Mentor Graphics, Dawn Consulting, Ittiam systems, UAE Exchange & Herbz were appreciative of the talent on offer and offered senior roles at foreign locations like Hong Kong, London & Dubai.
Global powerhouse brands like HUL, Reckitt Benckiser, Nomura, Deutche Bank, Citibank, HSBC, Deloitte Consulting, J P Morgan Chase, Johnson & Johnson, PepsiCo, Hindustan Coca-Cola Beverages & Standard Chartered Bank continued their strong association with IIM Kozhikode by recruiting in large numbers. Some of India's most well known MNCs like ITC, Asian Paints, Reliance Industries, Axis Bank, Mahindra & Mahindra & Cognizant also participated in the summer placements process where many students opted to do their internships over other global MNCs. The companies offered challenging profiles across different verticals that would allow the students to understand market realities & apply their business acumen to solve live problems being faced in each of the core sectors.
IIM Kozhikode reestablished itself as the premier Marketing destination with over 30% of the batch bagging offers from the companies in this vertical. With the major upswing noticed in the sector, FMCG companies attracted the largest talent with companies like HUL, ITC, Marico, Reckitt Benckiser, Pepsico, Asian Paints, Johnson & Johnson, Kellogs, Heinz, Perfetti, Hindustan Coca-Cola Beverages, Dabur & Brittania making a large number of offers. Major players in the telecommunications sector like Bharti Airtel also participated in the process. Companies in other sectors like Pharma – GSK Pharma, Medtronics; Apparel & Accessories – Madura Fashion & Lifestyle, Titan, Wildcraft; Home Décor – Akzo Nobel & others like AVT McCormick, AVT Tea & Pidilite also offered challenging roles in the Marketing vertical.
Investment Banks & other financial institutions lapped up 25% of the batch and made a higher number of offers as compared to last year despite concerns over recessionary trends appearing in European markets. Participation of the likes of Deutche Bank, JP Morgan Chase, Nomura, Macquarie Capital, American Express, Standard Chartered Bank, HSBC, Citibank, Goldman Sachs, Edelweiss ensured that there was no dearth of opportunities for students aspiring to a career in finance. In addition to the roles offered in asset management, equity markets & investment banking, Indian banking majors like ICICI & Axis offered commercial banking oppurtunities allowing students to choose between several different areas of specialization. Companies like the L&T group, UST & Prism offerred roles in Corporate Finance, Payments Enablement and other emerging areas in the Finance vertical.
Strategy & Business Consulting, one of the most sought after areas in recent times showed its growing emergence with a large number of students taking up roles in this vertical. It saw participation from loyal recruiters like Deloitte Consulting, Cognizant Business Consulting, Nodwin, Wipro Consulting, Asclepius, Mindtree in addition to several new recruiters.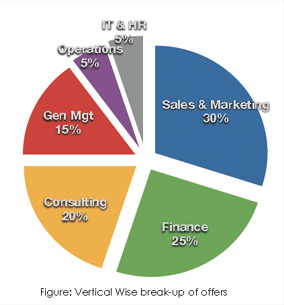 Many of India's well known conglomerates participated in the process offering roles in operations & general management across their group companies. TAS, Mahindra & Mahindra, Reliance Industries, TAFE, L&T, Jindal Steel, GMR offerred varied roles from Infrastructure, hospitality & manufacturing including a role in Sports Management with a top-tier IPL team and a project on improving productivity at India's finest Airport.
Business Development & IT Consulting roles were also in huge demand with companies like Infosys, TCS, Aricent, Genpact & Wipro offering roles in these areas. Several students chose to break the mould and preferred to take up roles in emerging sectors like Media, Sports Management, Non government enterprise, Healthcare, Online Commerce & Advertising. Companies like MSM India (previously Sony Entertainment Television), HT Media, Bates 141, Milward Brown, Outsmart 360 & Dr. Hussains' City attracted a large number of students in these growing alternate sectors. Emerging sectors of the Indian economy like realty, educational services & the social sector saw several organizations like Edunirvana, Janaagraha & GEC participate in the process with many students choosing them as preferred internship organizations.
Mr. James Michael David, Head of Training at Outsmart 360 says "The Placements committee took care of anything we needed and above all did it with a smile. There is an awesome bunch of talented students & we are looking at coming back next year to snatch some more." "We have had a successful summer placements season, continuing the positive trend over the last three years which is a testament to the talent of the students and the innovative curriculum & pedagogy of IIM Kozhikode" says Dr. Sridhar Guda, the Placements Chairperson. Anurag Patra, a member of the Placements committee says, "Apart from traditional domains like finance, marketing & consulting, this year we have been successful in reaching out and engaging sectors like media, education, infrastructure and sports management."
The alumni network of the Institute, which is getting increasingly stronger by the year, had a big hand to play in ensuring participation from few of the best companies in the industry in the Placement process. Alumni from a lot of companies also made it a point to travel with the recruitment team to the Institute ensuring a smooth conductance of the placements process by the company. The Institute is ever grateful to their support in ensuring that IIM Kozhikode carries forward its legacy of progress & excellence.